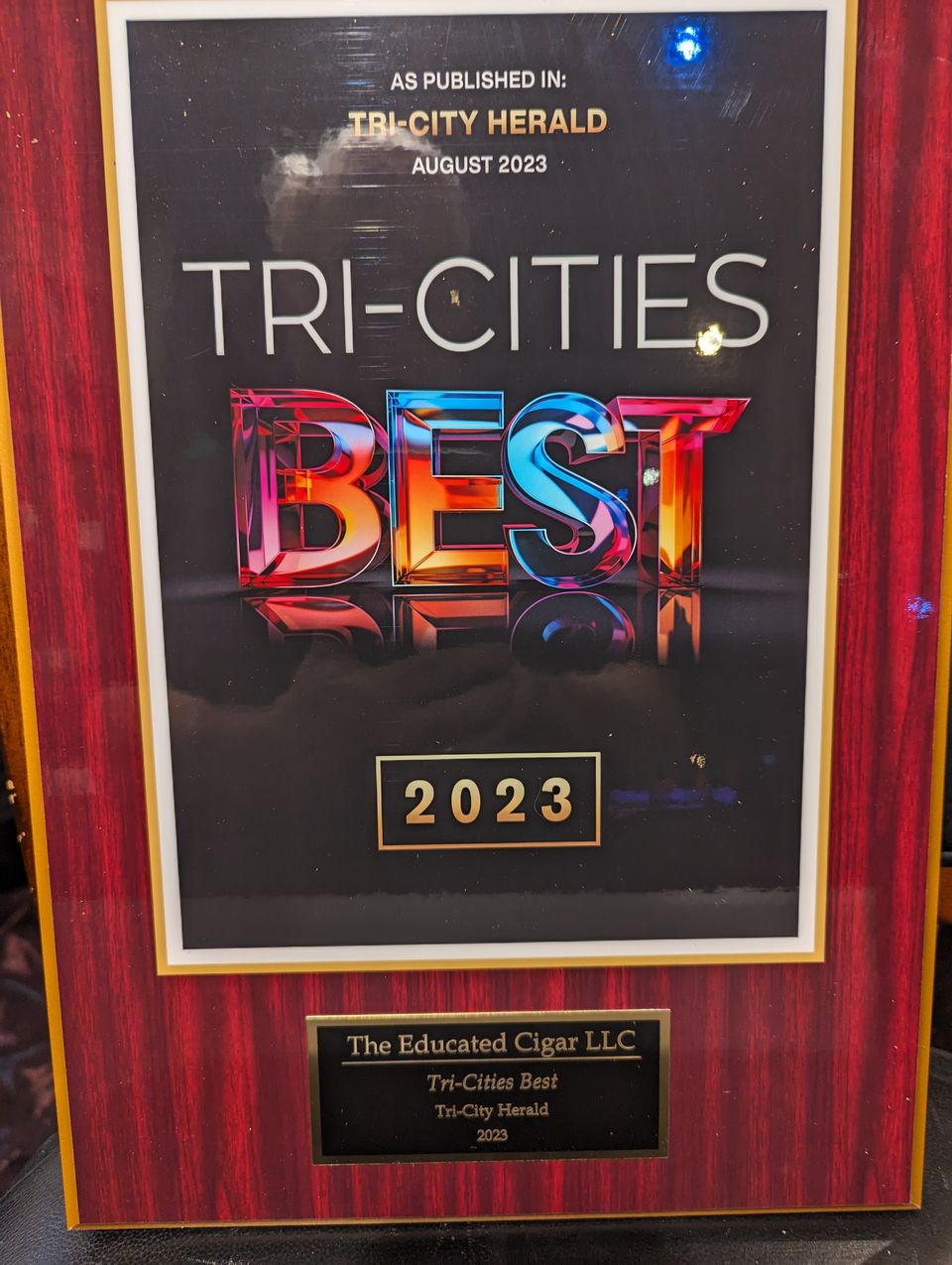 Our traveling Cigar Bar public events

at

 "

3 Eye Fish

"

 




Great food, spirits, wine & beer


Richland, Thursday (9-28-23)
6 to 8 pm

=========================================

Calling all pipe tobacco smokers!

Cornell & Diehl's master blender & Pacific coast rep will be visiting us on Thursday 9-28-23 from about 3 to 4:30pm.  You are welcome to attend to hear what's new and to ask questions etc.

C&D's Carolina Red Flake with Perique just arrived!Did you know?The world's leading cigar magazine, CIGAR AFICIONADO, has been rating cigars since 1992.   No Cuban brand has ever scored 96 or higher more than twice!   Padron cigars, made in Nicaragua, have 6 times scored 96 or higher.   We are now offering a Padron sampler with all six 96 and higher rated Padron cigars!   This sampler is available for $187, including tax.

NEW Cigar Sampler


The last 15-cigars rated 96 & higher
by Cigar Aficionado.  $359 including tax.

Yes we ship

We ship cigars within all 50 states, but can ship pipe tobacco only into the 22 states where it is legally permissible.  For your security, we require first time mail-order customers to call with their personal data, which is stored offline, so it is not accessible by an online data breach.  After your first order you can simply text, call or email future orders.

What you will find at The Educated Cigar:

-600 different cigars including nearly every 95 and higher rated cigar.


[Brands include: Ashton, Cohiba, Davidoff, EP Carrillo, Fuente (Don Carlos, Hemingway & OpusX), La Flor Dominicana, Montecristo, Padron 1964 & 1926, Perdomo, Rocky Patel and about 80 more.]


-

Cigars by the stick, sampler pack, and factory sealed box/bundle/tin



-120 different pipe tobaccos by the ounce, 2-ounce tin or pound
-

Pipe tobacco sampler kits



-cigar humidors & accessories
-

55 different fine wood pipes & accessories



-starter kits for cigar and pipe puffers

-

quantity discounts & punch cards



-very-high-rated wine, White Bluffs IPA



-Gift Certificates

-Adult-beverage smoking patio

Traveling "Cigar Bar"

The Educated Cigar LLC, offers a full-service, traveling 'cigar bar' with the world's highest-rated cigars.  We have about 25 years of experience, doing so at events of all sizes.  For instance, we have multiple times done so at the Gorge at Watershed, in Las Vegas at Route-91, at countless beer and whiskey festivals (including the Prosser Beer & Whiskey Festival, America on Tap in Yakima and Kennewick, Moxee Hops Festival, and the Seattle International Beerfest), at over 50 Blues festivals, at dozens of wineries, many classic rock music events, golf tournaments, fund raisers and weddings.  In fact, in 2017 our vending appearance at Route-91 2016, on the Las Vegas Strip, was highlighted in a multiple-page story in the national publication

SMOKE

magazine).

We do NOT sell cigarettes, chew or e-products.

GOOGLE rating of 4.9 (with over 230 reviews)

We accept all major credit/debit cards, as well as cash.
New Summer Hours Starting July 12, 2021:  10:00am to 5:00pm Monday to Saturday
Educated Cigar & Wine
Located at Atomic Bowl & Joker's Casino
Cigar Aficionado's Highest-Rated Cigars
100 Brands Including Fuente OpusX & Padron 1926
By The Stick, Box/bundle Or In Samplers
Same Day Deliver To Richland Hotels (Order by 4pm & Deliver to Front Desk by 7pm)
Weather-Protected Smoking Patios With Cable TV's
Large Inventory Of Humidors, Lighter, Caddies, Etc
Very High Rated Wines From 9 Countries, CA, OR & WA
Open Mon-Sat 11am-6pm | Educatedcigar@msn.com